Company Philosophy
Lateral Line is the first angler-driven company dedicated to creating the very best technical year-round fishing clothing for striped bass anglers. We are a customer-centric driven company. As a customer-centric company, we are focused on building lasting relationships with you/anglers and dedicated to using our creativity and vision to fulfill your dreams and expectations. Our fishing clothes allow striped bass anglers to have fishing apparel that is truly functional, rugged and stylish enough to wear your passion on and off the water.
We are committed to achieving a triple bottom line: we hire only the most talented people and help them to be successful both in and out of work; we are environmentally conscious, helping to preserve and restore fisheries through the Lateral Line Foundation and we strive to grow our company and provide healthy returns to our shareholders; Though our 2% for the Fish initiative we give 2% of our gross sales to the Lateral Line Foundation, utilizing the money to conduct fisheries research projects, grassroots conservation initiatives, and work in conjunction with like foundations. We also give to other non-profits that share our vision and values. We build conservation themes and responsibility into all we do.
Lateral Line is a founding member of the bCoproration classification of businesses which sets out to set new standards for social and environmental performance. In addition, we believe in supporting our local community and purchase local goods and serves when possible.
Sometimes these philosophies lead us to spending more or making it harder then it might otherwise be had we simply sought out the lowest price, but we believe the inherent benefits of striving for a triple bottom line far outweigh a few extra bucks we could have saved. You share and support our commitment by purchasing Lateral Line apparel and gear.

Our Customers
We prefer to think of our "customers" more as "partners"; without your support Lateral Line would not exist and we strive to provide only the highest level of service. If there is ever a question you can reach us at: [email protected].
Distribution Philosophy - Where to find Lateral Line Products
We distribute Lateral Line products through three channels: 1) Specialty Retailers: We believe in the small to medium sized retailers as partners to help us sell our products. Specialty stores offer the highest level of service and knowledge about apparel and gear and we encourage you to support them by not only buying Lateral Line products there, but all your fishing and outdoors needs. In addition, we feel that the small to medium sized specialty fishing and outdoor retailers are those that built the backbone to the fishing and outdoor industry and we will do our part to make sure this breed of stores continue to exist by selling our products in these locations. 2) the Internet: You can find our products on the Internet at specialty retailers web sites and here at the Lateral Line Web site. 3) A Lateral Line Catalog: In In the future our catalog will be delivered to your home and not only provide you with Lateral Line apparel and gear, but also interesting fishing related articles.
Supplier Philosophy
We are an environmental sustainable conscious company and believe in working with similar types of companies when building, distributing or selling Lateral Line products. When it comes to our suppliers and manufacturers we research those that we work with to assure they are doing their best to minimize the impact on the environment in the production process. We also assure that all the workers in these factories are treated fairly.
Fishing Conservation Philosophy
We believe in supporting and enabling sustainable fisheries management practices.
We appreciate your interest in our company and support by buying Lateral Line Fishing Clothes.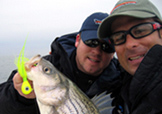 Brandon & Spencer White
Founders, Lateral Line, Inc.
We fish. It's who we are…tm