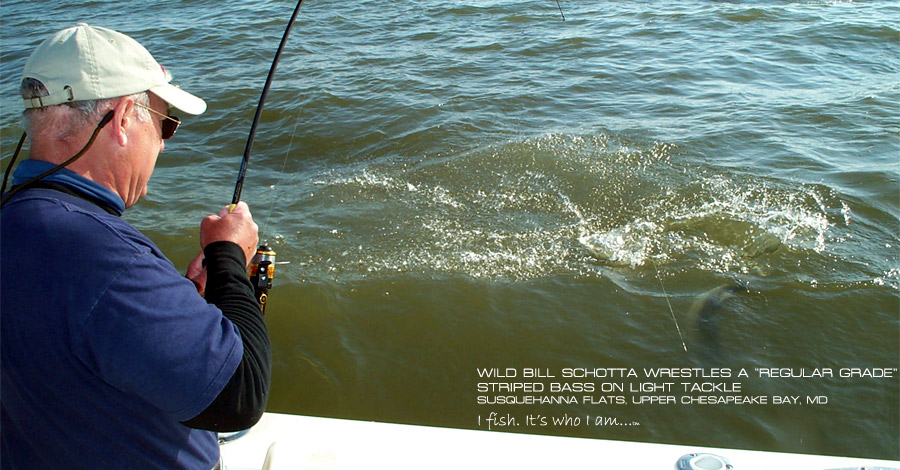 Fishing Team Home
Wild Bill Schotta

Profession

Light Tackle and Fly Fishing Angler

Career

Professor of Industrial Technology (retired)

Home Waters

Chesapeake Bay plus the East Coast from Cape Cod to Cape Hatteras

Method(s) of Fishing

Fly fishing and light tackle

Favorite Fish

Striped Bass

Favorite Lure/Fly

Very large Clouser Deep Minnows and magnum sliders

Places Fished

Penobscot River, ME; Cape Cod, MA; Narragansett Bay, RI; Martha's Vineyard, MA; Montauk, NY; Raritan Bay, NJ; Delaware Bay; Susquehanna Flats; Maryland portion of the Chesapeake Bay; the Bay Bridge and Tunnel, VA; Oregon Inlet, NC; Harkers Island, NC; Charleston, SC; Santee Cooper, SC; Louisiana; Everglades, FL; Andros Island, Bahamas; Crooked Island, Bahamas; Saskatchewan, Canada; and Iberia Marshes, Argentina.

Favorite Place to Fish

Chesapeake Bay Bridge and Tunnel

Boat (s)

23' Parker SE with Yamaha F225

Favorite on the Water Snack

Dry Roasted Peanuts

Favorite Food

Grilled Fresh Fish

Favorite Music

Country
Wild Bill's unequivocal passion and thirst for fishing goes all the way back to his early childhood. He started fishing the upper Chesapeake Bay as a kid in the late fifties pursuing the then bountiful American White Shad from a tin boat. In the early sixties he fished those same brackish waters and discovered the explosive largemouth bass. When large Stripers started smashing his bass plugs, it did not long before striped bass became his favorite light tackle species. Wild Bill chased striped bass though out the upper Chesapeake Bay region and fished the Bay Bridge area in the late 60's and 70's when fishing in and around the Bay Bridge was nothing less then epic.
As great sea trout fishing developed on both the Chesapeake and Delaware Bays in the mid 70's and 80's, Bill pursued those Tiderunners with light tackle and bucktails in his 19' Mako. When the stripers rebounded on the east coast in the 90's, this great fish again occupied much of his attention, as it does today.
Bill became an avid custom rod builder crafting over sixty custom rods for his friends and his own use. He also fashions deadly custom striper plugs from balsa that are coated with many layers of a hard finish for durability. These lures are as much a piece of art as they are wicked catching machines.
After retiring as a professor at a state university in 1999, Wild Bill started catching saltwater fish with the fly rod. Today fly fishing has become his passion. Bill is an avid fly tier and prefers tossing large streamers and sliders to stripers. He chases stripers, bluefish and false albacore from Cape Cod to Cape Hatteras. His 23' Parker is fully outfitted for fly-friendly fishing and securely holds a wide arsenal of fly and light tackle.
Bill normally takes time off from saltwater fishing each year to pursue Great Northern Pike with flies in Saskatchewan. He also enjoys fly fishing for bonefish and red fish and has caught Golden Dorado in the Iberia Marshes of Argentina. Few weeks go by that Wild Bill is not tossing his flies to willing fishes. Bill is a member of CCA, MSSA and Trout Unlimited and has held a variety of positions in these organizations.