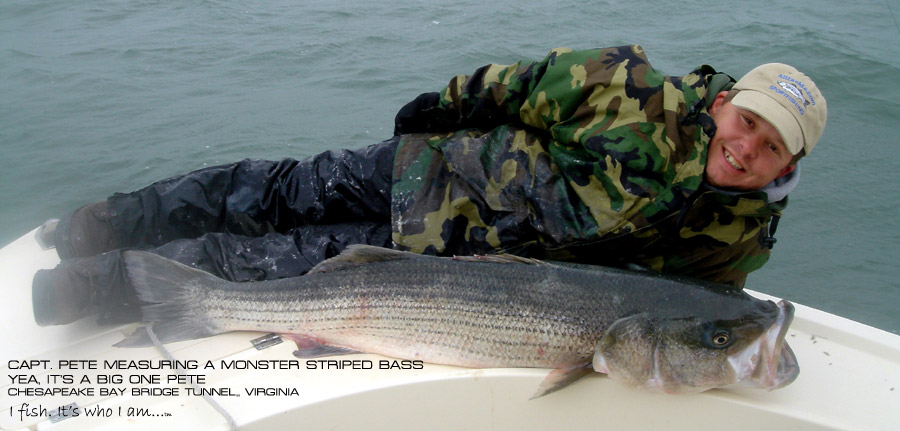 Fishing Team Home
Captain Pete Daulberg

Profession

Light Tackle Fishing Guide

Career

Retired United States Air Force

Home Waters

Chesapeake Bay/Top to Bottom

Method(s) of Fishing

Light Tackle Jigging, Plugging, Live Lining

Favorite Fish

Striped Bass ( Rockfish), Speckled Sea Trout, Flounder

Favorite Lure/Fly

Lonely Angler Surface Lures and Bass Kandy Delights

Places Fished

Chesapeake Bay from top to bottom, Fresh Water Lakes of NY State, Oceans around the world while in the Air Force.

Favorite Place to Fish

Wherever the fish are!

Boat (s)

21' Parker SE

Favorite on the Water Snack

Any crackers

Favorite Food

All seafood

Favorite Music

Country and Classic Rock

Website

Four Seasons Guide Service
Pete grew up in Camden NY, a small upstate town 40 miles north of Syracuse, NY. As a child Pete fished rivers and streams with his dad and grandmother for native trout and plied the waters of Oneida Lake for Walleye until he entered the U.S. Air Force in Sep 1982. While in the Air Force Pete's passion for fishing grew and he was stationed at Andrews AFB in Maryland. Here is where his passion for Chesapeake Bay was born.
True passion, leadership and love for fishing and children accounted for his role in the Wish-a-Fish organization. Pete directed the Solomon's Island event for disabled children and their families for 6 straight years. He accounted for over 100 disabled kids realizing the dream of catching a fish. Pete is a dedicated member and contributor to the Coastal Conservation Association (CCA), he has donated over 20 guided trips to CCA in order to further their cause.
After retiring from the U.S. Air Force after 22 years of service Pete dove into guiding fisherman full-time up and down Chesapeake Bay. Pete's undying enthusiasm and energy directly resulted in his appearances on ESPN's "Poveromo's World of Saltwater Fishing". Pete also conducts over a dozen seminars and presentations a year where he entertains and teaches folks about light tackle jigging on Chesapeake Bay. Pete is a true full-time fishing guide, his life is dedicated to fishing and helping others experience the joy.
When Pete isn't guiding he's at a state park or fishing somewhere with his son and daughter. Fishing is a family affair!