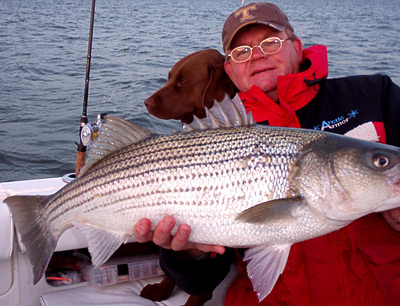 Do not put those boats away just yet, if you have not heard the Maryland Striped Bass Season has been extended through December 31st. The recent cold front has lowered water temperatures, but there are still breaking stripers to be found and trolling anglers are picking up some very nice stripers. If you are looking for the bigger striped bass make your way to the middle and lower Maryland portion of the bay. Check out the reports below for more.
(pictured:Shawn Kimbro with his faithful fishing friend along with a nice striped bass caught in the upper portion of Maryland's Chesapeake Bay before the recent blow. Check out his full fishing report with pictures here )
Maryland Fisheries News
The Chesapeake Bay Foundation is taking a hard stance on making sure the Chesapeake Bay has clean water and is suing the EPA. Read more here .
Weekend/Upcoming Fishing Events
Nothing in the way of fishing tournaments this coming week.
Maryland Fishing Reports
Upper Chesapeake Bay Region (Susquehanna River/Flats to Bay Bridge Waters)
Striped Bass fishing has been slow in and around the Susquehanna Flats area down the Poole's Island area. There have been a few reports of anglers catching some fish on topwater working the shorelines, but it has been a few fish each trip and nothing too big. There are still some reports of breaking stripers in the waters out front of Rock Hall, but the stripers have been on the smaller size ranging from sub-legal to twenty one inches. The same thing has been reported in and around the mouth of the Chester River at Love Point. For a recent report from Shawn Kimbro click here
Mid Chesapeake Bay Region (Bay Bridge to Honga River Waters)
The middle Maryland portion of the bay has been hot for light tacking jigging as well as trolling anglers when they have been able to get out between fronts and strong winds. Breaking stripers have been showing up between Bloody Point all the way down to the mouth of the Little Choptank, with the concentration of breaking stripers from Poplar Island across the bay to Deale and south to the mouth of the Choptank and across on the western shore to in and around Parkers Creek.
There have been a lot of reports from the middle part of the bay from light tackle jiggers and trolling anglers. Check the Maryland Chesapeake Message Board for full reports with pictures.
Lower Maryland Chesapeake Bay (Honga River down to the Maryland /Virginia Line Waters)
Mike and Christy from Buzz's Marina in Ridge buzzed in a report this week and saidMike and Christy from Buzz's Marina in Ridge buzzed in a report this past week and said of a recent trip , "Jeff Popp brought the Vista Lady back and he had no problem finding the fish but he never seems to have one. He fished between 72 and 70. A local charter capt caught five fish a mile outside Point No Point Lighthouse right at the first drop off in an hours time. The fish are scattered but when you find bait, you find fish. Well over 20 boats launched here Sunday with only two or three skunks which is pretty good. The fish ranged from the high thirties to the mid forties on Sunday. All fat and healthy! Christy"
Watch this area for fishing to pick up until the end of the year. While not many anglers venture down in this part of the bay in December, it's well known by the locals that the fishing can be spectacular.
Ocean City Maryland Offshore Fishing Reports
Ocean City Fishing Center reported:
The Striper fishing seems to be picking up. Quite a few keepers were caught this past weekend in the bay. The Tautog bite is still doing well. Capt. Monty on the Morning Star has been catching them in good numbers.
Sue Foster from Oyster Bay Tackle and Fenwick Tackle reported:
Big Blues! Fishing this week was great on big blues from the surf on
Wednesday and Thursday. Some nice stripers were caught as well from the

Route 50 Bridge, the waters close to the Bridge, and from the surf. Tautog were biting in their usual haunts. Then, the weather came upon us again and made fishing difficult. Anglers still caught some fish, but holding bottom in the surf was tough if not impossible, and winds dirtied the water in the bay by Sunday. The few days the party boats got out, fishing was productive.
Assateague surf produced a few nice stripers, one drum, and some bluefish from small to large. The weekend weather put a damper on the fishing, but mid-week it was good everywhere!
he big bluefish hit the Ocean City and Delaware Beaches on Wednesday and Thursday. Almost everyone that fished caught at least one nice one. Some stripers were also caught in the mix. The cameras at Oyster Bay and Fenwick Tackle were snapping!
Delaware Fishing Reports
There were some nice stripers, up to 44-inches, caught up by
the Cape Henelopen Point in the Del Seashore State Park mid-week. One angler came in to say they were snagging bunkers with treble hooks and chunking them up and catching big blues and nice stripers.
Clark from Old Inlet reports lots of short stripers in the Indian River Inlet with some keepers mixed in. Larger ones are just offshore. Stay within the 3 mile limit to be legal. Lots of tautog on the rocks in Indian River too.
That's it for this week. Remember to post reports and check for reports on a daily basis from other anglers fishing Maryland's Chesapeake Bay on the TidalFish.com's Maryland Chesapeake Message Board, there are so many Striped Bass Fishing Reports it's hard even keeping up.
Until next week, good times,and good fishing!

Brandon
Chief Angler